Angela Merkel explained her reluctance to see Ukraine in NATO
Former German chancellor doesn't regret talking to President Putin
Angela Merkel said she doesn't regret talking to Russian President Putin. At the same time, the former German chancellor claims that her opposition to Ukraine's membership in NATO helped this country. Merkel also partially blamed the West for the Ukrainian crisis.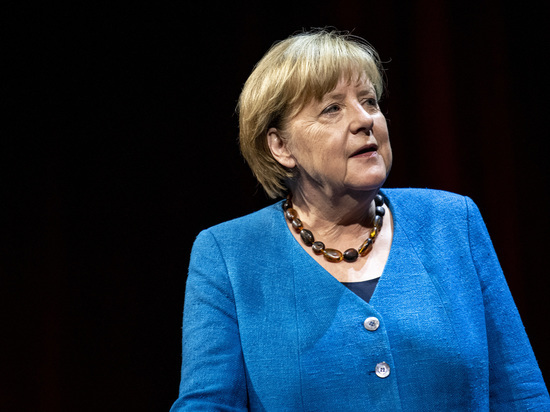 Photo: Global Look Press
Former German Prime Minister Angela Merkel said she did not regret her interactions with Vladimir Putin during her time in office, arguing that the Russian president would accept Ukraine's NATO membership plan 2008, which was blocked by the German Merkel government as a "declaration of war".
The former German chancellor also said that oligarch-ruled and democratically immature Ukraine was then less prepared for armed conflict than it is now, writes The Guardian.
"I would be very bad if I said:" There is no point in talking to this man [Putin]," Merkel said in an interview on stage at the Berliner Ensemble theater on Tuesday evening — her first public appearance since stepping down as German chancellor six months ago.
"It's a great tragedy that it didn't work, but I don't blame myself for trying," the ex-Chancellor of Germany added.
Asked if she regretted her opposition in 2008 to a US-led plan of action for Ukraine and Georgia to join NATO, Merkel replied: "Ukraine was not the country we know now. It was a very divided Ukraine… even the reformist forces of Tymoshenko and Yushchenko were at odds. This means that it was not a country whose democracy was internally strengthened." According to her, Ukraine at that time "was ruled by oligarchs."
According to Merkel, from the point of view of the Russian leadership, admitting Ukraine to NATO at that time would have been regarded as a "declaration of war." Although she did not share Putin's views, Merkel said she "knew how he thought" and "did not want to provoke it further."
The ex-chancellor claimed that she blocked Ukraine's path to membership in a military alliance, guided by the interests of the country. "You cannot become a member of NATO any day now," Merkel said. "It's a process." According to the former head of the German government, she feared that during this process, Russia "would have done something bad for Ukraine."
Merkel also defended the Minsk agreements, arguing that they bought time for Kyiv. "It calmed the situation and gave Ukraine time to transform into the country it is now."
She praised President Volodymyr Zelensky for his leadership during the current conflict, saying he represented a "new Ukraine."
In an interview with Der Spiegel journalist Alexander Osang, Angela Merkel said she felt the geopolitical problems created by the collapse of the Soviet Union, were present throughout all 16 years of her stay in power. "It was impossible to properly end the Cold War…there was always the question of Russia."
Merkel claims she began to take the possibility of a looming conflict in Ukraine seriously in the last few weeks of her tenure, when she attended the G20 summit in Rome when the government of her successor, Olaf Scholz, was still in the process of being formed.
"There were hints and we talked a lot about it," said the 67-year-old ex-chancellor. While Merkel unequivocally condemned the Russian operation in Ukraine, she also seemed to suggest that some of the blame should be placed on the West. Calling the current conflict "a big mistake on the part of Russia" and saying that she "does not share the opinion of Mr. Putin," Angela Merkel admitted: "They failed to create a security architecture that could prevent this [the conflict in Ukraine]. And we should think about that too."
She dismissed criticism that Germany under her leadership was under the illusion that Russia could be democratized by expanding trade ties with the West. But Merkel said she believed that if political cooperation was not possible, then it would make sense to at least have some economic ties with Moscow.
Merkel's defense of expanding economic ties with Russia seemed to be at odds with her claim that that she warned other politicians that Putin is hostile to the entire Western model of democracy and that he wants to "destroy Europe".
The former leader of the conservative Christian Democratic Union (CDU) admitted that European countries do not spend enough money on their armed forces, although she rejected criticism that the German army was weakened under her leadership.