Protesters in Alma-Ata took away a machine gun from a policeman
An attempt was made to storm the administration in the city
In the center of a protesting policeman in Alma-Ata, who was left alone in danger, protesters surrounded and took away his weapon.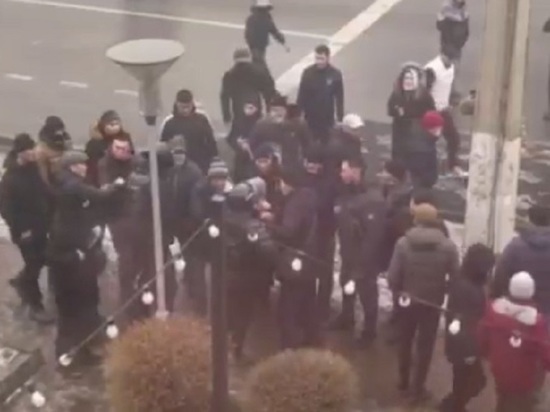 Photo: Still from video
Clashes between protesters and police began in the center of Almaty in the early morning of January 5. Angry people attack law enforcement officers. In response, the security forces use special equipment, in particular flash-noise grenades. According to RIA Novosti, several police officers were captured and beaten. One of them even had to give up his weapon: a video posted on social networks shows how the protesters surrounded a lone policeman and took away his machine gun.
Now the protesters in Alma-Ata have a machine gun. They surrounded the policeman and took away his weapon.
Protesters in Alma-Ata took away the machine gun from the policeman: video of the attack
Watch the video on this topic
The media write that the protesters stormed the administration in Alma-Ata. Earlier, such an attempt was made by protesters in the city of Oktobe, where unrest is also taking place.
Let us remind you that the protests in Kazakhstan began on January 2 due to the rise in fuel prices. Already on January 4, protesters clashed with security officials on Republic Square. In the city, in the Almaty and Mangistau regions, the state of emergency is in effect until January 19 and the curfew is from 23.00 to 7.00.